The Double Diamond Vacation Cabin is now available!
This beautiful new log cabin was built in 2004. The Cadillac Cowboy Cabin will sleep up to 10 people with two bedrooms, two baths, and a large loft including 3 beds.
A covered deck, 7-man hot tub, gas grill, fireplace, satellite t.v., and washer and dryer accompany a private, breathtaking view. The log home is completely furnished with a beautiful kitchen and living area. The cabin is located across the meadow from the Bed and Breakfast and in the same proximity regarding other Black Hills tourist attractions.
Daily rates range from $100-$300. Rate is dependant upon the number in party. Please keep in mind that the rate changes for less people and for extended stays. We also have our Aspen Room and additional Bed and Breakfast rooms. Inquire about keeping your dog at the ranch headquarters.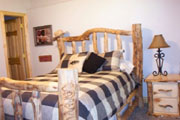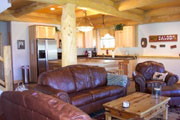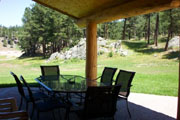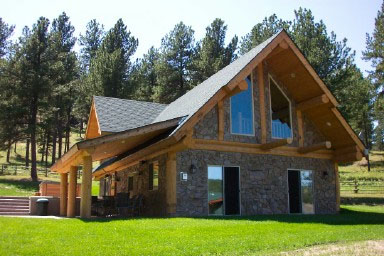 DD Ranch | Aspen Room | Pine Room | DD Cabin | Guest Info | Contact Us | Home