The "Aspen Room" is tastefully decorated in aspen log furniture. It will accommodate from one to eight people.
There is a kitchen, gas fireplace, full bath and deck overlooking the ranch – a total of 812 square feet.
You will have the option of bringing your own breakfast items or having a continental breakfast of fresh muffins, breads, cereal, fruit, and juice left in your suite daily.
You can also brew a cup of coffee or heat water for hot chocolate at any time during the day.
Other amenities include a hot tub, gas grill, satellite TV, air conditioning, and private entrance.
Come stay in the "Aspen Room" – you'll be so comfortable you won't want to leave!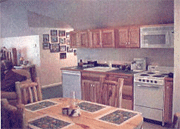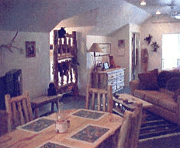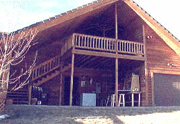 DD Ranch | Aspen Room | Pine Room | DD Cabin | Guest Info | Contact Us | Home